Event - November 8th, 2007
Thank you to all who attended our annual office event at the beginning of November, it turned out to be a great success!

We were treated to a delightful presentation by the very charming Desiderio Sastre, General Manager of the Viña Vilano winery in Spain, who talked about his wines and the area in which they are made. This was followed by a tasting of three of his wines, Roble, Crianza and Reserva - each with their own unique characteristics.

Everyone had a good time and the evening was enhanced by live entertainment from the Mac Barfoot band, delicious tapas, cheeses and grapes. Guests were also treated to an Italian delight as they stepped in the door, a delicious glass of Canevel Prosecco VSQPRD, one of the best proseccos in Italy!

For the Swiss wine lovers there was a tasting of two of our Swiss wines, Schinznacher AOC, which is 100% Pinot noir, and Vivant which is a Pinot noir blend. 
---

Taste of Fall by B.O.T. -  September 27th, 2007
We were delighted to participate in the first Board of Trade Wine and Food Show where members supplied services and products. Our main feature was our new product Canevel Prosecco DOC Valdobbiadene (Italy), the only DOC prosecco in Newfoundland. It was a great success with a sold out show. We look forward to the next one!
---

15 August 2007 
We are proud to announce that the best red wine of Wine Fest West 2007 was Elias Mora Crianza (90 Parker Points). It certainly is one of our favorites!

New Look, New Approach, Same Great Event…

Come to Wine Fest and enjoy the 12th anniversary of this great event!

Join us November 6-10, 2007, at the Delta Hotel in St. John's, for Newfoundland and Labrador's premier wine event.

Based on the overwhelming success of our "Special Selections" sampling session last year, we will be offering it again this year. This will take place on Wednesday, November 7, 2007. Tickets for this event will be limited and premium priced, allowing our customers the space and time with all our products.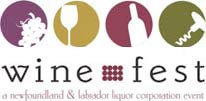 The NLC will host a booth during this session, offering Special Selections wines for tasting and purchase that night only.  Regular Consumer Sampling Sessions will also be held on Thursday and Friday night, November 8 & 9, 2007, with an afternoon Sampling Session held on Saturday, November 10, 2007.

Take advantage of our "Special Selections" Tasting Session this year.

As you can see Wine Fest is presented a little different this year with a new look and an increased focus on specific target markets.
With your continued support this should prove to be our most successful Wine Fest to date!
---


Catalonia, September 2007

This year, part of my trip took me to the other side of Spain… Catalonia, famous for its wines, cheeses and tapas. One can argue that these are common to most of Spain, which is true, but each place is different. I hope my friends from the other side of the Iberian Peninsula will not be annoyed , but the tapas in Catalonia were superb! Maybe the best in Spain.
 



Driving for hours to find vineyards is never a boring experience. One gets to see parts of a country one would never otherwise see. The temperature was over 40 C!. I was certainly overdressed for this time of the year! It actually reminds me of my old days with the Hush House Harriers, when we jogged around unique sites while living in Africa, South America and the Far East.




During our week in Catalonia we visited about 15 wineries in one week. Wineries seemed to appear out of nowhere, and we found ourselves standing right in front of one! I loved the simplicity and authenticity of the places, with no signs or fancy entrances like some vineyards in Italy or France. Next door was Alvaro Palacios, L'Ermita. We received a wonderfully warm welcome from the winery owners. After tasting so many wines, what remains most in my mind are the unique places and the people evoked by a glass of wine. The best time was with Joan at the local restaurant on top of an ancient hill next to a castle, overlooking the small local village.



Lovely, lovely meal…. Tuna carpaccio with foie gras, lamb, and exquisite local tapas matched to the local wines made it just perfect; just thinking about it makes my mouth water! It was remarkable that the Vinya L'Hereu de Seró vintages were all significantly different. One can understand why these vineyards have obtained great awards and reviews - Petit Grealo and Flor de Grealo are indeed a true representation of their terroir and their winemakers. It was fascinating listening to the winemaker talk for hours about his creation, just as a parent would talk about his children. No doubt that learning directly from the winemakers is one of the privileges of being a Wine Representative.



Vinya L'Hereu produces ECO wines from low yields and they are indeed great value; hopefully we will soon have them available in Canada.






We did various vertical tastings in different wineries in Monsant and Priorato and we were very pleased and relieved that each vintage was so different, especially the fabulous wines from Mr. M. Ripol, a unique wine producer. Each of his superb wines had its own personality. It is so true that wine is made in the vineyard and not in the winery! Just like my mother says: "Plants grow gracefully when you talk to them, nurture them and love them."




I don't want to forget to mentioned another of my weaknesses, you might wonder how many I have! Of course it can only be Art. Art has been an important part of my life ever since I can remember, especially visual art and sculpture. I would never miss the opportunity to visit museums while traveling… it is a must as it makes my trips complete. On this occasion we made time to re-visit the Picasso, Dali and Miró museums, and of course the works of the talented architect Gaudi. And as my Martin would say: "Art is so inspiring and I taste a reflection of all the art, history and beauty in the wines of the area."  
---


Switzerland - August of 2007

Another part of the trip took us to Switzerland to visit vineyards in the northern part of Switzerland (German speaking) where Pinot Noir (called Blauburgunder in Switzerland) and Riesling/Sylvaner (aka Mueller/Thurgau) are the main varieties.



We visited one of the main wineries in the area and tasted several of their wines. Their Riesling/Sylvaner won first price in an International White Wine competition.






It is beautiful area with rolling hills. The grapes are grown at about 500 meters above sea level and under conditions similar to Burgundy.






We were welcomed and given an extensive tour of the winery and the vineyards and even had the opportunity to taste some plums and apples straight from the tree. Two of the wines from this winery were featured at the Wine Fest this year – the Pinot Noir and also an assemblage of Pinot Noir/Dornfelder and Zweigelt.


We'll see if they show up on the shelves at the NLC!
---


Italy, August of 2007

Driving south of Switzerland towards Italy, reminded me of James Bond, especially when passing by Lake Maggiore; the only problem was that I did not have a sports car! Rather a small Golf…. however, I managed to get over it by thinking about Prosecco. This was one of the most enjoyable parts of my journey, traveling towards Valdobbiadene, the home of Prosecco and only a few hours from Venice: what a perfect location!




I almost didn't want to come back. …. This part of Italy is just like a painted canvas of an untouched rural environment of green vineyards and stone houses. Everything looked just perfect and peaceful. Valdobbiadene was just theright temperature for this time of the year. We saw vines planted on steeper slopes, advancing right up to the side of the road.





With so many options on prosecco wineries, we chose Canevel Spumanti, a prestigious winery that is part of the "Consorzio di Tutela", the strict consortium that oversees the observance of the DOC regulations. This means that thegrapes have to come only from the Valdobbiadene region, but also involves checking that the ripening of the grapes is perfect before giving the go-ahead to the producers.




The visit to Canavel Spumanti winery was exciting and very educational. Mr. Covre excelled in his hospitality. We enjoyed his state-of-the-art winery, and learned that it differs from the others in the Consortium because he has invested in an exclusive piece of equipment which avoids the use of sulphites, thus eliminating headaches. Canevel is a true sparkling prosecco with a perlage similar to champagne. His wines have been chosen to represent prosecco amongst the best wines of Italy, on a level with Sassicaia.




We loved drinking prosecco morning, noon and night, because of its freshness and fruitiness. 


 
---

Spring 2006





Bierzo

Being an ex-pat for over twenty years has taught me a lot about enjoying and discovering new and interesting places, and, although I have been back and forth from Spain for many years, I am still able to discover neat places by visiting wineries in unique locations. What better way to discover interesting villages, local history, landscape, culture and cuisine! A career in wine-making is not a bad way to live; it is more of a passion than a job!

Last year was the turn of the Bierzo region, a small ancient region in the northwestern corner of Castilla y León, famous for the presence of the Knights Templar, who used to protect the pilgrims walking from France to Santiago de Compostela. Other significant landmarks right next to one of the wineries I represent are the famous old Roman settlement "Agribergidum" and the old Roman mines "Las Medulas". What a fantastic place filled with history and culture! For us wine enthusiasts a place can be evoked by the smell and taste in a glass of wine. … It sounds simple, but once you are there you will feel it!

These Romans really thought of everything…wine and culture. Most wine drinkers, I guess, have never heard of Bierzo, but these days it is amongst the favorite regions for wine connoisseurs and sommeliers around the world. Here at home people are becoming increasingly aware that there are more grape varieties than the famous international ones such as Cabernet Sauvignon, Merlot and Shiraz. Some of my favorite grape varieties are the Mencia and Godello, unique to the Bierzo area, and practically unknown. At the beginning what was thought to be Cabernet Franc… is actually Mencia, an ancient variety. Encomienda Templaria comes from 80-year old vines. Driving further south, I had a view of Vega Sicilia Winery surrounded by those beautiful olive trees that looked as they were just painted on a fresh canvas. It is quite interesting that here in Newfoundland, we are becoming pioneers in bringing in new and different wines made of different grape varieties thanks to the innovative approach of the NLC stores.

The Encomienda Templaria (100% Mencia) and Odorus (100% godello) have been available to us since early this year. If you get the opportunity to taste these wines, which are good representations of Bierzo, you will discover the mineral and dark fruit flavours particular to a 100% Mencia variety, and the exotic wildflower, apple taste of the Godello variety. Both of these wines are organically grown, meaning that the grapes have been produced without the use of chemical pesticides and fertilizers.

Castilla y León

Another scenic region! Wherever we looked there were wineries and great views. We visited another 10 wineries in this region. Ribera del Duero, home of some of the best wines in the world, like Vega Sicilia and Pingus, is crossed by the Duero River, the same one that flows into Portugal, giving its wines a special character. Luckily, I was able to taste some of my favorite wines and squeeze some into my luggage, just before the new restriction on traveling with liquids came into force! I must not forget to mention Mr. Carmelo Rodero, a unique winemaker. He is the epitome of the true craftsman in winemaking! We were so impressed on how engaged he was in his wines, even to the smallest detail. No wonder he calls his wines "Vinos de Author". My favorite one is TSM vintage 2003. If you are looking for an exceptional wine for a dreamy romantic evening, this is the one! Who said dreams are cheap?

Toro was delightful and there I was pleased and privileged to meet the Dos Victorias, two remarkable women who own a small winery right in the heart of Toro. I hate to think I am biased towards them because they are female, but I am afraid that is the case! They are successful women, who have a small winery, yet they have managed to produce some of the best wines I have ever tasted, and at great value. I am not surprised at their worldwide success. They constantly get awards for the best winery or best wine. Elias Mora semi- crianza, Elias Mora –Crianza and Gran Elias Mora. And recently they have come up with V2, which obtained one of the highest scores - 98 Parker points.