Wines from Spain
"Today Spain is emerging as a leader in wine quality and creativity, combining the finest characteristics of tradition with a modern and progressive winemaking philosophy". Robert M. Parker,Jr

 
 
 
 
* Wine-making tradition dates back to the Romans
* Largest area covered with vineyards of any country worldwide
* Very strict DO (Denominacion de Origen) controls
* A 20th century renaissance that extends nationwide to this country's wine industry
What you need to know when buying spanish wines?

Spanish wines are categorized by their aging process:
1. JOVEN - (young) young wine with little or no time in oak barrels.
2. TINTO ROBLE - (Semi crianza) from four to eight months in oak.
3. CRIANZA - a minimum of six to 12 months oak aging plus 1 or 2 years bottle aging depending on the region.
4. RESERVA – minimum of 3 years of aging, with a minimum of 1 year in oak barrels.
5. GRAN RESERVA - released after five years of aging, with a minimum of two years in oak barrels.
Main wine-making regions in Spain are:

Spain is a country with a rich wine-making tradition, and not one of the mass producers of wine; it produces per acre of land less wine than other western European and New World wine-producing countries. Spanish DOs have very strict limitations. The main wine regions in Spain are the Northeast: Rioja, Navarra, Somontano, Penedes, Priorat and Monsant, and the Northwest:

RIBERA DEL DUERO (Castilla y León)
BIERZO (Castilla y León)
TORO (Castilla y León)
RIAS BAIXAS (Galicia)
RIOJA (Rioja)
PENEDES,MONTSANT AND PRIORAT(Catalunia)
CASTILLA Y LEON

Most of the well known DOs from Northwest-Spain come from this Province. Castilla y León has beautiful scenery and remains dating from the Romans and Visigoths; this area has a reputation for excellence among wine connoisseurs. The wines are full bodied with lots of character and intense fruit. The soil and climatic conditions are ideal for low yield, high quality wines.
The DOs in this area have strict limits on yields.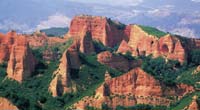 1. Bierzo

El Bierzo: Atlantic rain and Castilian sun.
The main varieties are both indigenous- Mencia for red wines and Godello for whites. The Knights Templar used to protect the pilgrimage route to Santiago de Compostela and the area has a rich history of wine making.
 
 

2. Ribera del Duero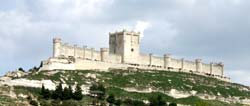 This area, dissected by the Duero river, with a large number of terroirs, is considered to be the "new" area of wine making in Spain. High-quality red wines aged in oak, exceptionally dark, superbly fruity, richly robust and ageing extremely well. Some of the best Spanish wines come from this DO.
3. Rueda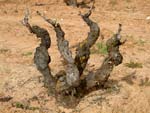 This DO is dedicated to floral, herbal and award-winning white wines from the Verdejo grape, native to thisarea. Some of the best wine infrastructure with kilometer-long underground tunnels from the 14th century are typical of this area.

4. Toro


The "new" wine-making miracle! Dark red wines with excellent extract and tannin levels from the local Tinta de Toro tempranillo variety, created as a result of the special climate and conditions.

This area exported wine to France during the phylloxera outbreak.
GALICIA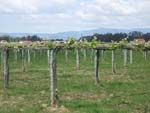 5. Rias Baixas

This region is another up-and-coming area in Spain, located in the Province of Galicia, this DO produces excellent white wines made with the Albariño grape. This unique local variety, grown on pergola-style trained vines, creates the fresh, aromatic and light white wines this area is famous for. This grape variety is grown in close proximity to the Atlantic Ocean. Albariño is fast becoming one of the most popular white wines and rightly so!
An albarino was the first Spanish white wine to win the coveted Medaille d'Or at the Vinexpo in Bordeaux (France) in 1991.
Albariño wines are perfect with seafood or just enjoyed on their own.
RIOJA

6. La Rioja
The most traditional of Spanish wine regions, indeed. It has changed its style over the last twenty years to effectively compete with the new and modern emerging wines from Ribera del Duero,Montsant,Priorat. However, it is still the wine to go for if you like the flavours of old Spain: the mature, vanilla, berry and leathery taste of the reds. Red Riojas are traditionally a blend of the Tempranillo and Garnacha ( Grenache in France).
The traditional white grapes of Rioja are Viura and Malvasia. One can find young wines (straw, yellow, fruity aromas and herbaceous notes), to traditional aged wines (golden colour in which the oak predominate on the mouth and nose). This area also offers Rosé wines which are basically produced from Garnacha. They are fruity fresh and pleasant on the palate.
CATALUNIA

7. Priorat
In Priorat the change has gone even further. This region is one of the new stars of Spain; it's powerful red wines, with luscious fruit, intense cherry colour and mineral overtones. They offer a complex nose with ripe fruit and the marked character of terruño. They are some of the most expensive and sought after in Spain. This is a geologically isolated wine growing area , surrounded by a ring of high mountains. They pick practically grape by grape for their best wines. Low yields (rarely over 2000kg/ha) and slate soil are characteristics of this area where the Garnacha and Cariñena are combined in the high ranges with lesser percentages of foreign varieties Their whites are produced mainly from Macabeo and Garnacha Blanca. Straw yellow coloured, they have fruity aromas and are reminiscent of mountain herbs. This area also produces Rosés, they are known for their ripe fruit notes.
The traditional wine Rancios of this region have aromas of almonds and notes of mountain herbs. There are also a range of sweet wines with a cloudy cherry colour ,black fruit aroma almost raising like and notes of toast due to the aging.

8. Montsant
This increasingly popular area produces high quality red wines of strong colour and commendable body. The soil is mainly clay and chalk. Grape varieties are mainly Garnacha. The young wines are fruity, meaty and flavourful. Those aged in barrels have high levels of fruitiness: they are also powerful, meaty with a high alcohol content. The white wines of this region are based on Garnacha Blanca: they have body and a certain structure with characteristic notes of herbs and hints of Mediterranean woodland. Whereas the whites from Macabeo are lighter and refined, fresh and fruity.
Its Rosés are characterized by a good berry definition. On the traditional wines we have the sweet liqueurs made from Garnacha. They are sticky and mellow on the palate with a taste of raisins and preserve fruit.

9. Penedés
Historically a red wine growing area for centuries, nowadays two-thirds of its wine growing area is planted with white wine grapes. This is the Cava (methode Champenoise) producing area in Spain and this increasingly popular and high quality sparkling wine accounts for the success of this wine growing area.
The varietals mostly used to produces cava are: Xarello, Parellada, Macabeo and some indigenous dark varieties like UlldeLlebre(Tempranillo), Garnacha, Monastrell, Carinena and Samso.
The reds produced in this region are from its indigenous grapes, generally Garnacha and Tempranillo. They are young, and are pleasant to drink, although they might be light as well. Where as those aged in wood have notes of fine wood with fruity aromas and are of good intensity. And on the palate theyare concentrated and meaty. This area also produces Rosés; which are powerful, aromatic and fresh.

Some of the wineries we represent:

1. Condes de Albarei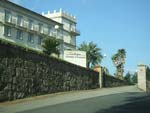 The largest and one of the highest-quality producersin the Rias Baixas DO. Their principal label - Albariño Condes de Albarei - was the first Spanish white wine to win thecovetedGold medal at Vinexpo, Bordeaux (France) in 1991.

Our wine selection:
- Condes de Albarei
- Enxebre (pron. "Ensevre")
- Carballo Galego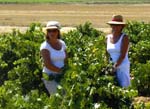 2. Bodegas y Vinas Dos Victorias

A unique winery owned and run by two female enologists with the first name Victoria.
All their red wines have received 90-95 Parker Points. They won "Revelation Winery of the Year" in 2004 and "Newcomer of the Year" in 2005. These wines are sought after and are produced in limited quantities.
An extraordinary winery, with extraordinary wines!


Our wine selection:
- Vinas Elias Mora
- Elias Mora Crianza
- Gran Elias Mora
- Jose Pariente Verdejo (Award-winning white wine)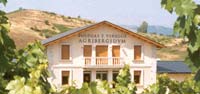 3. Bodegas y Vinedos Agribergidum

The Bodega Agribergidum is located below the ruinsof the "Castro Bergidum", a Roman military settlementin the small villageof Pieros in the Bierzo. No pesticides and only natural fertilizers are used to grow the vines on the 65 hectares of vineyards. Some of the vines are 90-100 years old. Exquisite wines from the local Mencia (red) and Godello (white) grape varieties.

Some of our wine selection:
- Fructus
- Encomienda Templaria ("Templars Wine")
- Castro Bergidum


4. Vina Vilano and Bodegas Vendimia

Vina Vilano
300 hectares of vineyards, in Pedrosa de Duero, with different exposures and at different elevations. The high-quality wines from this winery have won many international awards. Some of their vines date back to 1957.

Some of our wine selection:
- Vina Vilano Tinto
- Vina Vilano Roble
- Vina Vilano Crianza
- Vina Vilano Reserva

Bodegas Vendimia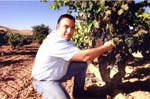 Mr. Serafín Moya, the chief enologist for Vina Vilano, has created his own line of wonderful, full-bodied red wines of superior quality.
One of his quotes is:
"Wine is made in the vineyard, not in the winery".

Some of our wine selection:
- Ochavo ( Tempranillo/Merlot)
- Ochavo ( Tempranillo/ Cabernet Sauvignon)
- Azemur Roble/Crianza and Reserva ( DO Toro)



5. Bodegas Carmelo Rodero

A remarkable winemaker who creates remarkable wines!
Carmelo Rodero has designed his own wine-making system toproduce some of the best wines we have tasted. Passion, skill and grapesfrom some of the best areas in Ribera del Duero are the ingredients for these magnificent wines. These superb wines are produced in limited quantities.

Some of our wine selection:
- Carmelo Rodero Tinto Crianza
- Carmelo Rodero Tinto Reserva
- TSM
- Valtarreña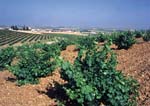 6. Grupo Yllera
Six generations of Yllera wine growers and wine producers guarantee high quality products from three DOs. Wines are aged in a mile-long cellar 60 feet underground dating from the 14th century. A great selection of wines!

Some of our wine selection:
- Cuvi
- Bracamonte Roble
- Garcilaso
- Yllera Crianza